Wi-Fi networks and site survey
Site survey (predictive, predeployment, validation)
In "indoor" or "outdoor" environment, Multitel carries out Wi-Fi site surveys (predictive, predeployment, validation) to define the feasibility of any coverage project. This site survey makes it possible to optimize the arrangement of the access points in order to reduce the necessary number while guaranteeing an optimum level of coverage in terms of signal and throughput.
Spectral measurements are also performed to define the noise level in the selected frequency band by disturbers such as Bluetooth devices, other Wi-Fi networks, wireless audio / video transmitters, Microwave ovens, etc.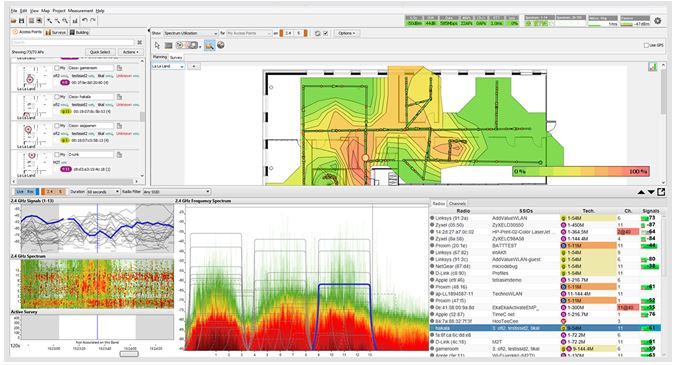 Deployment, audit and training

Following this Wi-Fi site survey, for new installations or modifications to your wireless network, our engineers can bring you several solutions and services. For example:
Placement optimization of access points on the basis of technical and economic constraints

Integration and compatibility with the existing network (wiring, PoE / PoE + switches …)

Wi-Fi topology selection: centralized, standalone, cloud

Access Points and Related Authentication Servers (AAA RADIUS) configuration

Securitization of your network according to the needs: WPA2/WPA3 personal/entreprise, IEEE 802.1x / EAP methods, Hotspot / captive portal, …

Estimation of installation costs, specification drafting, tender analysis and assistance in choosing the tenderer

Compliance and Receivability Testing

Technical studies on specific applications using Wi-Fi networks
In addition, our team can establish a health check of your network in a preventive way or identify the causes of a specific problem in order to propose different possibilities for improvement (Post-deployment Wi-Fi site survey).
Share this page