Deployment and migration to IPv6
IPv6 services
In the framework of deployment and migration to IPv6, Multitel offers the following services :
Training of IT managers with real test bench exercises

Implementation of a test network and verification of current hardware and software implementation

Progressive and natural deployment to replace end-of-life equipment (future purchases and contracts, specifications …)

Establishing a native IPv6 connection based on several ISP offers

Definition of an addressing plan and address management (auto-configuration, DHCPv6 server, router advertisement, DHCP stateless service)

Implementation of DNS (internal / external) and routing infrastructures

Definition of an IPv6-specific security policy and analysis of monitoring and management tools

Proposition of migration plan with scenarios based on needs: external visibility DNS / web / mail, core network, client workstations

Planning and Budget Estimates for each migration stage

…

Context
In 2011, the central organization responsible for IP address allocation (IANA) distributed its latest IPv4 address pools to the various regional Internet registries, including RIPE in Europe. This exhaustion of IPv4 addresses implies the need to migrate to the new version of Internet Protocol, which allows for a consistent and comfortable number of addresses, with its extended address space.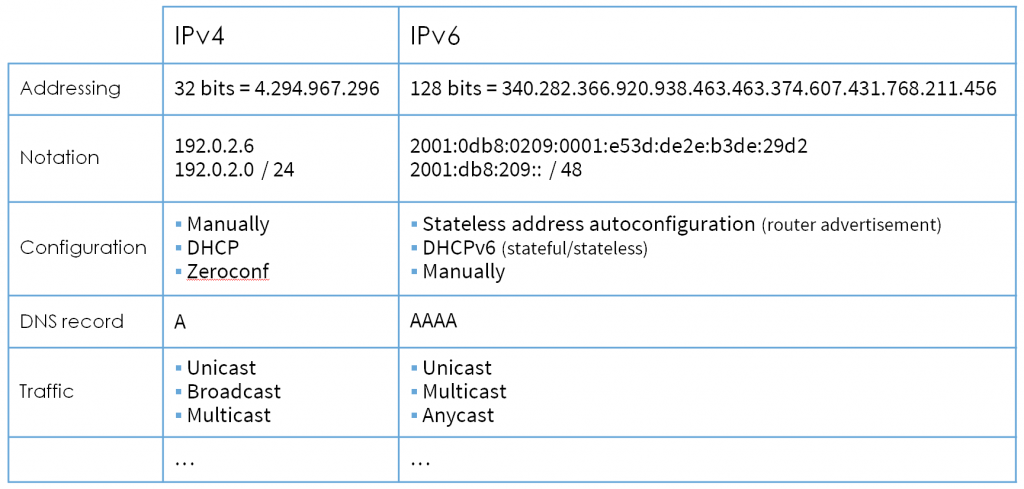 Motivation
The motivations to migrate to IPv6 can be various:
Shortage of addresses, need to extend the network or to solve NAT problems

Using applications based on IPv6 functionality (end-to-end security …)

Web Content Accessibility for IPv6-only Clients

Replacement of end-of-life equipment or applications

Will to set up IPv6 without pressure and act now to avoid unpleasant surprises
IPv6 is not only a question of addresses but also brings several improvements in different areas, in particular simplifying access by removing the need for NAT address translation. IPv6 gradually replaces IPv4 and both protocols will coexist for several years during this transition period.
Share this page