LUSTA 5G
Logistique mUltimodale Sécuritaire Téléopérée & Autonome 5G (Logistics mUltimodale Safe Remote Operated & Autonomous 5G)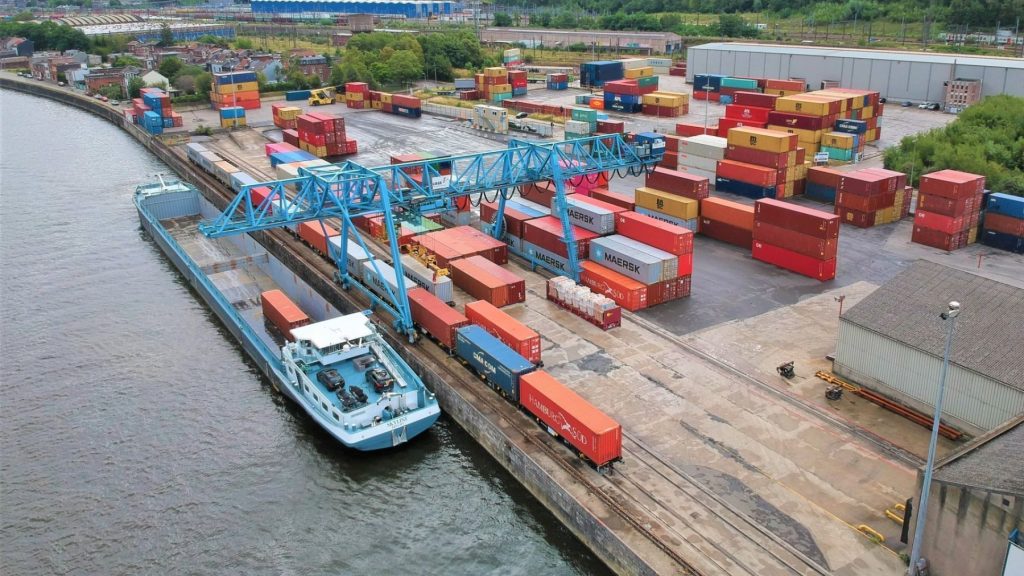 Objective of the project
Tercofin's boats are already remotely piloted via a combination of 3G and 4G networks. The LUSTA 5G project aims to complete the company's supply chain by using remote control of material handling equipment in the implementation of the SmartPort concept development already common in the marine field but still very beginning in the fluvial ports. Thus, when loading/unloading the goods on the Logistics Terminal from a remotely ordered lightening (see NavAuWall and Tercofin-Seafar – §4.1), a gantry crane will be driven remotely by an operator seated in a remote control tower of the site while an automated 5th wheel (manoeuvring tractor vehicle) receives and forwards loads (on a platform or in a trailer) in order to drive them to storage halls. This 5th wheel will also be piloted remotely for the realization of parking/docking and/or recovery maneuvers from the control tower through a specific Human-Machine Interface (HMI). In the end, it will be possible to control several gantry cranes and fifth wheels from the same control tower located outside the logistics site.
The objective of LUSTA 5G is to demonstrate the efficiency, safety and utility of a 5G connectivity solution between a remote operated or autonomous machine and a remote control tower based on a 5G private network to reach operational requirements safely. The operational advantages of a 5G approach (robustness/ availability/ stability of connection/ transmission rate) make it possible to reach these operational requirements more simply, in a more integrated way, with simplified maintenance and less costly down-time, solutions based on older connectivity modes (proprietary remote control system).
One of the major challenges in the implementation of this 5G PoC lies in the nature of the metal container storage area's environment, which is constantly evolving and severely disrupting the quality and stability of mobile communications. In addition, the project will also work to demonstrate the effectiveness of integrating 5G modems with existing remote operation software architectures of mobile systems. LUSTA 5G also proposes to develop HMIs (control joysticks, display screens, etc.) suitable for remote driving of mobile machines controlled from a control tower located at a distance from the operating site (without direct operator visibility of the environment).
Contribution of Multitel
Development of specific procedures/tools for assessing the real-time quality of 5G network connectivity at the necessary locations on the Transfer Terminal to ensure the ongoing quality of availability for tele-serviceoperation in all circumstances (significant variation in configurations due to the highly variable presence of metal containers as screens).
Choice/Configuration/Integration with on-board control systems of 5G User Equipment (EU) remote-operated guided vehicles (gantry cranes) for optimal operation of the 5G private network in connection with the operation of a «Command/Control» & Video (eMBB) URLLC channel Artifact-free (signal loss not allowed or not expected to exceed current operation using a close "line of sight" operator).
Coordinator
Partners