Red Hat Training
What is Red Hat® ?
Red Hat® is the world's leading provider of reliable open source, enterprise IT solutions (virtualization, storage, middleware,…).
The training department of Red Hat is the world leader for Linux training and certification.
Multitel is the first Red Hat certified training center in Belgium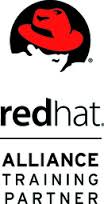 Get industry-leading Red Hat training delivered by Multitel in a professional classroom experience !
Red Hat® performance-based classroom training provides the hands-on, practical skills that IT professionals and developers require.
Take advantage of the courses delivered in our Red Hat® certified classroom:
The trainer is a skilled professional and expert in the fields that he teaches.
The students are encouraged to participate actively in activities implying defined tasks, to verify their knowledge during exercises and to talk openly.
The trainees receive good quality of learning materials, such as relevant documents, exercises and references.
All training rooms are equipped with systems dedicated to each student.
Our courses
All our trainings are delivered in French.
Please browse the French version of our catalogue.
Time and location
These courses are delivered in the Multitel Training Center, situated Rue Pierre et Marie Curie, 2 – Parc Initialis in 7000 Mons (Belgium). Free parking available. Easy access.
Courses start at 9:00 am ( at 10:00 am on Mondays) and end about 5:00 pm.
Terms and conditions of registration
Are you looking for other training?
Don't hesitate to consult our Cybersecurity training and Network training.